Premier Pet Resort For Dogs in Royse City, TX
At Canine & Company Dog Resort we believe in providing your dog an exceptional experience while at our resort! Our team provides love and care while getting to know your dog's wants and needs. Our caring staff is trained in safe daycare play to provide a safe environment for your dog to socialize and enjoy making new friends. We encourage you to take a tour of our facility designed for our guest's comfort and safety. With plenty of space indoors and outdoors, our facility is designed for a fun, stress-free stay!
Pet Boarding Services
Canine & Company Dog Resort provides luxury suites for your pet's stay! We ensure your pet has everything they need for their stay to keep them happy and comfortable.
Our Dog Boarding
We guarantee that your dog will love our dog boarding amenities. We provide soothing music as they drift off to sleep in their comfy cozy beds. In the morning, dogs that enjoy playing in groups, can join our dog daycare. We provide curbside drop-off and pick-up for your convenience and daily housekeeping services.
About Our Dog Kennels
Our luxury V.I.P suite includes a flat panel TV and furniture, so you won't have to worry about your dog - they'll be enjoying the good life while you are away enjoying it too! Call today to learn more about our luxury dog boarding kennels!
Professional Dog Grooming
Does your dog need a bath? Maybe a little pampering to get your dog looking their best? At Canine & Company Dog Resort, we offer spa services, including our professional dog grooming for your Royse City pup.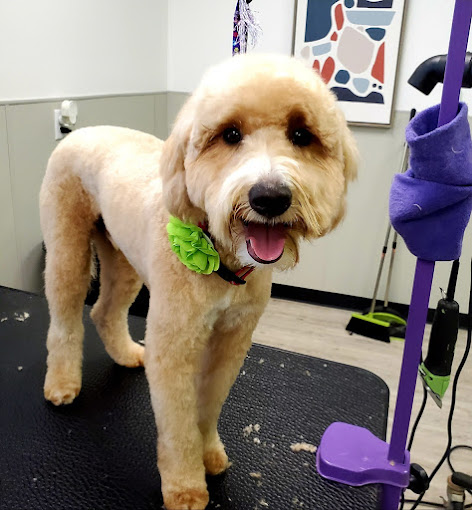 Our professional dog groomers always put comfort and safety first for your dog. We offer a Shampoo Package with the finishing touches of a bow or bandana, plus extra service add-ons. Treat your dog to a blueberry facial, pad and paw treatment, or if needed, a furminator treatment to help with shedding. You can even add a grooming session while boarding or visiting daycare! Consider adding a dog grooming service while your pet is here for boarding or daycare for added convenience.
Reliable Dog Daycare
When you can't be with your dog during the day, or you need a special place for them to stay, come to Canine & Company Dog Resort for a fun-filled day of dog daycare! Our attentive and loving staff supervises while our guests are busy socializing with old and new friends. Our facility offers 6,000 sq. ft. for indoor play and 8,000 sq. ft. for outdoor play! If your dog prefers to play in smaller groups, our highly trained staff will make sure to give lots of attention and love to each of our visitors! During the day, we will add nap times to let each guest rest to keep them from becoming overstimulated. At pick-up, your dog will be happy and tired from a day of fun!
Learn More About Our Kennels and Grooming Services
If you are a pet parent in Royse City, TX, and you're looking for a reliable and friendly dog groomer or a boarding kennel, look no further than Canine & CO! Contact us today to learn more about our services.